Leading Financial Web Services Provider to Demonstrate Integration With Corporate Applications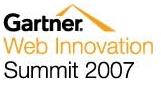 GARTNER Web Innovation Summit, Las Vegas, NV Sept 17, 2007--Xignite, Inc., the leading pure-play provider of financial web services for mission-critical corporate applications, today announced its official sponsorship of the Gartner Web Innovation Summit as part of its ongoing effort to promote wider adoption of Web 2.0 technologies within the corporate enterprise. The event is scheduled for September 19-21, 2007 at Caesars Palace in Las Vegas. Xignite leverages Web 2.0 technology to provide financial web services that power enterprise mashups. Xignite offers the largest integrated suite of financial market data for business integration, giving businesses instant access to up-to-date market data directly from corporate applications. Mashups integrated with Xignite services help businesses to increase agility with accurate and timely market information. Xignite financial web services are developed on an integrated data platform with open technology standards, so mashup developers can integrate the data easily without dealing with any complex integration issues. Companies deploying Service-Oriented-Architecture (SOA) and the next generation of Web technologies can take advantage of Xignite financial web services to quickly build web portals and corporate mashups with full market data functionality.
About Gartner Web Innovation Summit
The Web has become the primary user interface mechanism for both infrastructure and applications. This Summit is about how to best use the next generation of Web technologies, methodologies, vendors, and culture. You will learn:
What is Web 2.0 and how to leverage the associated technologies (AJAX, RIA, and Rails)?
What are the business implications of the new Web technologies and business models?
What's the current and future impact of social networking on the enterprise?
How to take advantage of the emerging Web trends?
How to make the case and measure the ROI of new Web technologies?
What strategies to adopt for Web services, SOA, and SaaS?
Which Web technology products and vendors to choose?
You'll benefit from 30 sessions over three tracks, analyst user roundtables, peer networking, product demonstrations and distinguished keynote speakers. Join hundreds of business leaders and IT professionals relying on Gartner for a critical update, answers to the hard questions and a clear roadmap to the future. Be there - and bring your team of IT and business leaders.
About Xignite
Xignite (pronounced "x-ignite") is the leading pure-play provider of financial web services for mission-critical corporate applications. As a pioneer in the field, Xignite offers the broadest integrated suite of financial web services available today on an on-demand platform, with more than 40 solutions covering market quotes, news, corporate data, industry information, analytics, tools and more. Xignite powers mission-critical applications for portfolio management, sales management, trading, investor relations, corporate portals, executive dashboards, analytical engines and more. Xignite serves more than 300 clients, including Ameriquest, GE Commercial Finance, Goodyear, ING, McDonald's, Marsh & McLennan, Starbucks, and Wendy's. For more information, please visit
www.xignite.com
or call 1-866-XML-SOAP.